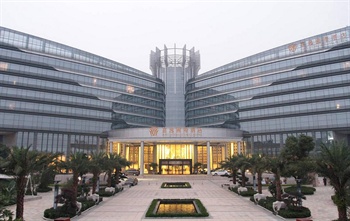 The Jiayi International Hotel (Nanhai Jiayi Jiudian) is located in Shishan town to the north-west of Foshan. Both Foshan Airport and Foshan Railway Station are just 20 minutes away by car.
Offering an array of specialties from around the world, the on-site restaurants serve different cuisines including Japanese, Chinese and Western.
For business travelers this complex offers a function hall and a series of smaller meeting rooms suitable for conferences and seminars.
Guests at this Foshan hotel can enjoy Wi-Fi in public areas as well as free parking. For relaxation, guests can hit the gym for a work out, sample the local blend in the tea room, or fine tune their singing skills with some karaoke.